Ciara McAllister
Owner, Piano, Singer/Songwriting, Performance Coaching, Artist Development
Adults (intermediate-advanced)
I am a professional pianist/keyboardist in San Francisco. I began taking piano lessons when I was 6 years old and fell in love instantly. I had a wonderful piano teacher, whom I adored, who taught me to understand music theory & read music, but also taught me to play by ear & improvise. She taught me to understand the language of music but she also taught me how to stray from the page and create the music that was inside me. To this day, I am eternally grateful for that.
When I was 10, I started playing in my church band. It was here that I discovered my passion for playing music with other musicians. This is still a passion that I share to this day.
I began teaching private lessons to the kids in my neighborhood when I was 13. I have been teaching private lessons and group workshops ever since.
I have a degree in classical piano performance, but have always continued my pursuit of playing in other styles as well (jazz, pop, funk).
Over the years, I have accompanied choirs, accompanied soloists, taught private lessons, taught group workshops, played in many different bands, and have ultimately been narrowing my focus toward the aspects of music that I love the most.
In 2005, I moved to San Francisco and have been actively involved in the music scene here, accompanying the Piedmont Children's Choirs, the Nationally Renown Head Royce choirs, and soloists such as Megan Hilty from Wicked. Studying with funk keyboardist Jimi McKinney, who has played with Larry Graham and the Graham Central Station, Sly & the Family Stone, and Tower of Power, and grammy nominated jazz pianist Mark Levine, author of "The Jazz Piano Book", and collaborating with musicians such as George Lacson and Mike Rogers of the John Lee Hooker Jr. Band, I have heavily pursued adding other styles and new repertoire to my classical, pop, and improvisational roots. I am very excited to now be composing and performing with my band, Hidden in the Sun, an amazing group of musicians who borrow from rock, blues, jazz, and funk styles.
Lizzie Clapper
Piano, Voice, Piano/Voice Combo, Songwriting
Children (ages 3 & up)
Adults- Piano (beginners-intermediate), Voice (beginners - advanced)
Lizzie Clapper, head of the MMS Children's Department, has her degree in Music Education from San Jose State University. Her teaching philosophy is grounded in her deep belief that music is for everyone and that all beginning music students should have a well-rounded and nourishing experience with equal focus on learning to read music, listening to music, and understanding music from both the classical and jazz/rock/pop perspectives.
Lizzie began her journey with music at a very young age, starting piano lessons at age 5. She sang in many choirs throughout much of her childhood and well into adulthood, singing with the world renown San Jose State University Concert Choir, where as a part of that group she sang with Andrea Bocelli as well as multiple performances with rock group The Rolling Stones.
Lizzie met Ciara McAllister in 2006 when the two began working together as music teachers for a performing arts summer camp based out of San Francisco and the two have been working together ever since. Lizzie is also deeply passionate about singer/songwriters and has been writing her own music since 2005, performing in many venues around the Bay Area. Eventually, Lizzie joined up with Ciara (and other close friends) and helped to form the band Hidden in the Sun, an indie-rock band that features Lizzie as the lead singer and one of the contributing writers. As the lead vocalist in that group, her singing prowess has been described as both "striking" and "galvanizing" by Pop Music critic Steve Hochman of The California Report. She is currently creating music for her new solo project Mother First.
Lizzie is passionate about sharing her talents with the students at McAllister Music Studio!
Ashlee Elmore
Piano, Voice, Piano/Voice Combo, Songwriting
Children (ages 3 & up)
Adults- Piano (beginners-intermediate), Voice (beginners - advanced)
Ashlee Elmore's relationship with music began very early in life, as she began singing in public at 5 and started piano lessons at age 6. After years of performing, Ashlee suspected she had finally found her true calling when she joined her school choir at age 11. By her first vocal competition just two months into being a resident choir member, she was named one of the top singers in her home state of Oklahoma, winning the Choral Directors Association's All-District Honor Choir competition. At the three-day workshop in preparation for the competition, basking in and soaking up the direction of the guest clinician, Ashlee saw standing in front of her an example of exactly what she wanted to do with her life and from that point forward she set a path to realize her dream of becoming a music educator.
Ashlee received a bachelor's degree in Choral Conducting and Vocal and Instrumental Music Education in 2001 and immediately landed a choral directing position at a very successful public school. She furthered the choral program's success by tripling it in size in her three years there. After feeling a little restrained by a conventional public school program, Ashlee set on a path to find a way to spread her love for music and share her creativity by creating her own programs, starting with Elmore Music Instruction, a private music education program where she has personally taught voice, piano and guitar to over 600 students since its inception. Satisfying her deepest desire of conducting and leading choirs and singing groups, Ashlee went on to found the Bartlesville Children's Choir in 2008. The group's success and growth inspired Ashlee to pursue her Master's Degree in Music Education which she completed in 2010.
She continued to lead the children's choir onto further success which garnered Ashlee state-wide attention and eventually landing her the coveted role of Artistic Director of the Tulsa Children's Chorus. Once in Tulsa and leading the Tulsa Children's Chorus to winning first place twice at state competition, Ashlee started getting back to her performing roots on the weekends becoming a resident Dueling Pianist, starring in musical theatre productions and forming her own jazz group, the Ashlee Elmore Jazz Quintet, which just performed to a sold out crowd in her home state at Duet Jazz Club. In 2017, combining her love for choral music and musical theatre, Ashlee began Tulsa Youth Cabaret, an auditioned group of 9-18 year old musical theatre singers, performing for over 50,000 people since it began. Ashlee has been a friend and colleague of McAllister Music Studio since it began and we are thrilled she is making the move from Oklahoma to San Francisco so she can add her wealth of experience on a full-time basis to MMS. Ashlee is an infectious, passionate, and super fun music teacher and we are so honored that she will be sharing her talent with our students. We can't wait for you to meet her! Watch Ashlee perform here!
Andrew Kunz
Piano
Children (ages 6 & up)
Adults (beginners - advanced)
Andrew Kunz's love of music began at the young age of 6, when he first picked up the piano, and eventually expanded to guitar, bass and drums in the formative years following. As a teenager he started his first band and recorded a whole album's worth of original music before finishing high school. In college, Andrew studied classical and jazz piano and was awarded the prestigious UCSC arts scholarship and the Costa award for excellence in jazz performance. Outside of school he was involved in numerous jazz, funk and afrobeat bands among the Santa Cruz's fertile musician community.
In addition to his studies in classical and jazz music, Andrew's studies broadened to a multitude of different world music cultures, including classical Hindustani music theory and performance, central Asian music ensembles, and African music history. This variety of influences has informed Andrew's unique, open-minded compositional prowess and approach to music, which has led to success as a performer. He has toured extensively both across the U.S. and internationally as a keyboardist and percussionist for a few of the bay area based bands that he helps lead. Andrew is excited to bring his enthusiasm and knowledge of music to the MMS team and hopes to instill his passion for music in his future students.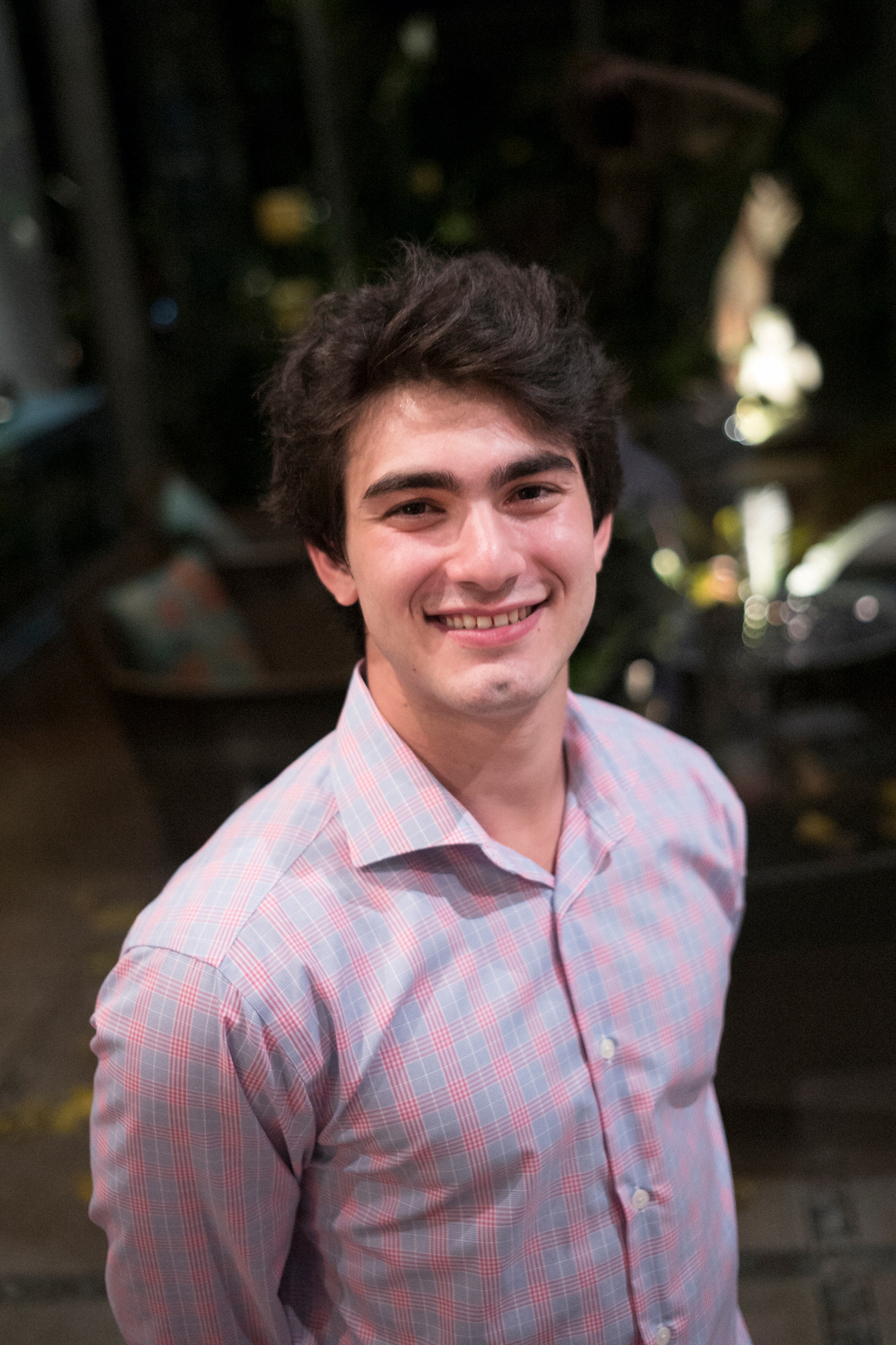 Sebastian Singh
Piano, Piano/Voice Combo
Children (ages 3 & up)
Adults (beginners - advanced)
Sebastian has a longtime relationship with music. Growing up in Singapore, he began piano lessons at the age of 6. Pursuing music with passion and dedication, he completed the ABRSM exams at the age of thirteen. He studied classical music at the Nanyang School of Fine Arts for two years before breaking off and working under a private teacher until his high-school graduation. He performed in competitions and concerts around Singapore and South East Asia, both as a soloist and a chamber-music performer.
He continued to nurture his passion for music at Saint Mary's College graduating in the Spring of 2019. During this time, he picked up the guitar and started writing music of his own. He also began giving private piano lessons to students in his community at St. Mary's College and continued to hone his teaching skills by working as a writing adviser in the Center for Writing Across the Curriculum program. He is well versed in all styles and truly appreciates helping students explore music in the style that they feel excited to learn.
Sebastian has an infectious and joyous relationship to music that fuels every interaction he has with his students. He believes wholeheartedly that a good educator is one who puts the student first and that can only be done when they give up the view of a teacher as a "master" and replace it with "servant". Sebastian will be teaching beginning - advanced piano and piano voice/combo for children and adults and is honored and thrilled to begin his journey with the MMS community!
Natalie Ter-Agapova
Piano, Voice, Piano/Voice Combo
Children (ages 3 & up)
Adults- Piano (beginners-intermediate), Voice (beginners - advanced)
Natalie Ter-Agapova dreamed of becoming a musician from her early childhood, beginning music lessons at age 3. At age 15, she graduated with honors in the piano and vocal divisions of the Shostakovich School of Music in Moscow.
In 2007, Natalie began teaching private vocal, piano and music theory lessons for children. During this time she also began her work as a choral conductor with a group of 4-7 year olds. In two years time, she transformed this small ensemble into a nationally recognized chorus Velikan, from which two of her students become finalists of the popular TV show "VOICE-kids" in Russia.
In 2010, Natalie began her pedagogical studies at Moscow State Teacher's University and congruently worked in the public school system as a music teacher.
In 2017, Natalie moved to Brooklyn, New York where she worked as a piano teacher, vocal coach and choral conductor. She has served as a judge on several panels and committees for competitions and festivals, and has also performed as a soloist and member of the folk music group Russian Beauty in international festivals and contests in the United States, Russia, Spain, Slovakia, Serbia, and China.
Natalie is a true teacher, with a heart of service and and deep desire to share the joy of music with her students. She combines her extensive knowledge of music with a deep understanding of her students' individual needs in order to help them achieve their musical dreams.
Natalie is moving to San Francisco in August of 2019 to bring her experience & passion to the MMS team. Her primary goal is to inspire her students to enjoy music as much as she does!
Sarah Gao
Piano, Voice, Piano/Voice Combo
Children (ages 4 & up)
Adults (Beginners-Advanced)
Sarah Gao discovered her musical gift at age five and she has been pursuing her passion ever since.
Studying and practicing her piano daily, Sarah won her first city piano competition at the age of 10 and has continued to perform ever since. She has performed as a soloist, in duets, in chamber ensembles and masterclasses, and has had the joy of performing in venues all around the world including New York, Boston, Florida, San Francisco, Spain Italy, Beijing, Shanghai, & Harbin. Gao was a finalist in the CLMAO International Piano Competition, received the Honor Prize in the Van Waynen Competition and has performed as an orchestral pianist with the NEC Philharmonia Orchestra, NEC Symphony Orchestra, and NEC Wind Ensemble.
Sarah received her BM in Piano Performance from New England Conservatory in 2018 and is currently working on completely her MM in Piano Performance at the San Francisco Conservatory of Music under the guidance of professor Yoshikazu Nagai.
Sarah has been teaching private piano and voice lessons alongside her performing for the past 6 years. She inspires her students through games and other creative activities that help fuel their musical imagination. Sarah is very pleased to be sharing her gifts with the wonderful students at MMS!